In 1981, "In The Air Tonight" didn't even crack the US Top 40. So why is it so popular today? What did Phil Collins mean when he sang about someone drowning? How was "the sleekest, most melodramatic drum break in history" created? How is it still influencing songs today? What does TV's Miami Vice and a drumming gorilla for a candy bar commercial have to do with any of this? Read on.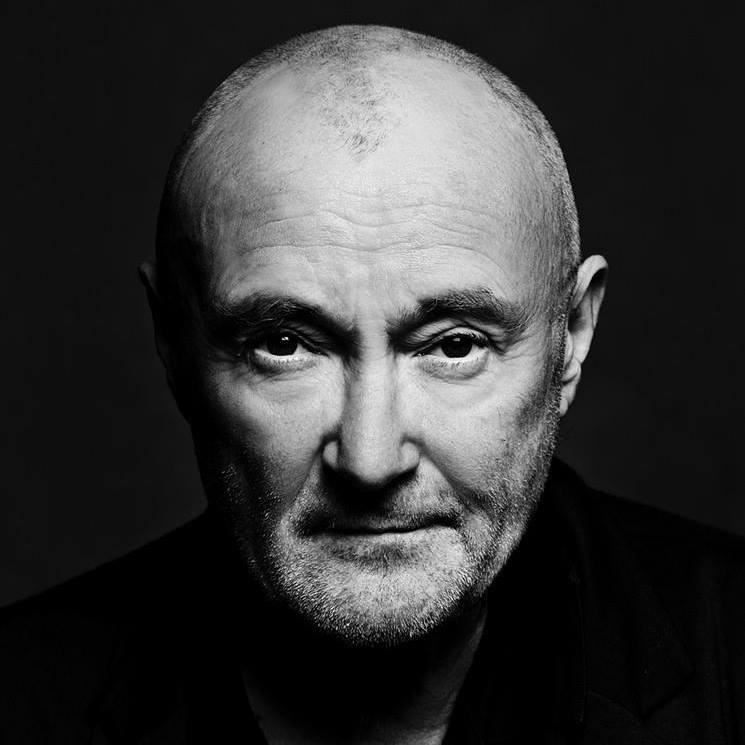 "In The Air Tonight"
Phil Collins
#19 Billboard Hot 100
August, 1981
You told me you were drowning
I would not lend a hand
I've seen your face before my friend
But I don't know if you know who I am
In the mid 1970's, British progressive rock band Genesis was on a creative roll. Keyboardist Tony Banks, bassist/guitarist Mike Rutherford, and drummer/lead vocalist Phil Collins had shed their folk sounds (along with former frontman Peter Gabriel) and drifted ever closer to radio-friendly FM pop. The group found their audience numbers increasing on both sides of the Atlantic. In response, Genesis made their tours more lavish and extended. This came at a personal price to Collins since his absence from home left wife Andrea Bertorelli alone to care for their two kids and dogs. When Genesis began their lengthy 1976 Wind And Wuthering tour, Bertorelli was again left to care for the family by herself. The strain was too much on their marriage and Andrea confessed to having an affair with a hired house painter. Though Collins tried to save the marriage, by 1980 he and Bertorelli were divorced. Genesis took a hiatus, which left the singer/songwriter alone at his home in Surrey, England with a lot of pent-up emotions and free time. Collins explained to Mix Magazine:
I had a wife, two children, two dogs, and the next day I didn't have anything. So a lot of these songs were written because I was going through these emotional changes. I got back to find that I had a lot of time on my hands because the family wasn't there, I rang up and said, 'Can I have my drum machine?' because I had to start writing some of this music that was inside me….'In the Air Tonight' was just a CR-78 drum machine pattern. You could eliminate certain sounds and program bass drums and snare drums, so I programmed a bass drum part into it, but basically the rest of it was already on there.
The disarmingly simple intro begins with just a downtempo drum machine beating low and deliberately. Next, an ominous guitar chord buzzes into the atmosphere. Daryl Stuemer recalled in an interview with Uncut magazine:
My guitar part was done much later, in a studio in LA. I sat in the control room with Phil, and my amp was out in the studio, as loud as I could get it. I hit this chord, which Phil described as the sound of an electric razor, Rrrrzzzzz. People write me emails about that chord, asking what it [was]. The song's in the key of D minor, but the chord itself has no minor notes. It's a low A, and a D, and another A and a D. But it depends how you play it, it has to have that overdriven, distorted sound from the amp. It's a distant sound, but a distant powerful sound. It's a sound you imagine being deafeningly loud a mile away.
A repeating set of electric piano chords adds a new layer to the gathering darkness. Collins remembered:
I was just fooling around. I got these chords that I liked, so I turned the mic on and started singing. The lyrics you hear are what I wrote spontaneously. That frightens me a bit, but I'm quite proud of the fact that I sang 99.9 percent of those lyrics spontaneously. I was coming from Genesis recording and rehearsing history where sometimes we didn't know what the vocal was going to be doing when we recorded the track because lyrics were sometimes written after the track was recorded. I remember the first principle I had for making my record was that I would get a voice down very quickly so everything else would fit to the voice. The lyrics you hear for 'In the Air Tonight,' I just sang. I opened my mouth and they came out. I never wrote anything down and then afterward, I listened to it and wrote them down.
Collins says he later wrote the lyrics down on the back of a piece of old wallpaper.
I can feel it coming
In the air tonight, Oh Lord
The listener can sense a sinister tone from the singer. The next few lines have been interpreted in a number of ways.
Well if you told me you were drowning, I would not lend a hand
I've seen your face before, my friend, but I don't know if you know who I am
Well I was there and I saw what you did
I saw it with my own two eyes
So you can wipe off that grin
I know where you've been
It's all been a pack of lies
One myth says the song is about how Collins witnessed a man rape his wife and then drowned. Some think it's about Collins seeing a man drown but was too far away to help. The wildest urban legend is that Collins as a boy witnessed one man drown another in a pool and was unable to save him. Collins then tracked down the culprit with the help of a private detective. After giving the man free tickets to his next show – a spotlight was shown on the guilty person while Collins debuted the song. Collins set the story straight with the BBC:
I don't know what this song is about. When I was writing this I was going through a divorce. And the only thing I can say about it is that it's obviously in anger. It's the angry side, or the bitter side of a separation. So what makes it even more comical is when I hear these stories which started many years ago, particularly in America, [sic] of someone come up to me and say, "Did you really see someone drowning?" I said, "No, wrong." And then every time I go back to America the story gets Chinese whispers, it gets more and more elaborate. It's so frustrating, 'cause this is one song out of all the songs probably that I've ever written that I really don't know what it's about, you know?
To give added drama to Collins' singing a vocoder effect was used (listen closely to the 'Well I remember…'). Today, vocoders (or voice-decoders) are overused in pop music and culture yet in the early 1980's, it was a rare, futuristic sound. Originally developed by Bell Labs in the 1920's as a way to send voice messages farther, the modern vocoder is basically a synthesizer with a microphone attached. The raw, warbly sound of the singer's processed voice is what avant-garde artist Laurie Anderson calls "the voice of authority". Let's face it, a robot's voice is hard to ignore. Vocoders were heavily used for the TV show voices of talking computers and robots such as the Cylons from Battlestar Galactica. In a friendlier universe, Daft Punk used the vocoder effect on their hits "Get Lucky" and "One More Time".
The tune still has the steady, subtle beat of the drum machine until about 3:40. Collins' voice builds the song to a sonic climax as his drum kit delivers a powerful fill-in that fans call 'The Magic Break." BBC music critic and broadcaster Stuart Maconie explained:
It's the drum sound in particular that's amazing. You don't hear it at all for the first two minutes of the song … then there's that great doo-dom doo-dom doo-dom comes in, and the drums come in half way through the song, setting the template for all the Eighties drum songs after that.
Producer Hugh Padgham had accidentally discovered that if you left a studio talk-back mic on, the result (especially from drums) was a compressed wall of sound that suddenly vanished. Essentially, the resulting left-over sound from striking the drum was electronically removed as if having to pass through a 'gate'. The happy accident was coined 'gated reverb.' At the time Collins didn't think much of his drumming on "In The Air Tonight" or of it being a viable song. It was released as the vanguard single from At Face Value in January 1981. It entered the UK charts at #36 and began a rapid ascension. Collins wrote in 2007:
It was a surprise…I did Top of the Pops with [presenter] Dave Lee Travis, and in one of the down moments he said, "This record is going to be a top three." I didn't believe him, because it had been made so haphazardly, but the next week, there it was at No. 3.
Between tapings of his 'Top of the Pops' episode, a paint bench, paintbrush and can mysteriously appeared near Collins' keyboard. Could this have been a sign to his ex-wife about the affair? Collins remarked that the strange additions made the set look good and that it was purely coincidental.
"In the Air Tonight" was held off from the top spot on the UK charts by John Lennon's posthumous 'Woman' that August. "In the Air Tonight" peaked in the US chart at #19 on the Hot 100. It sold over 500,000 copies, certifying its 'Gold' status, yet was considered a minor hit at the time.
Like from a stone cast into a smooth pond, the ripples of success propelled the song into the fall and winter of 1981. A small, ambitious cable network had just signed on showing only musical 'videos' and were eager for content. The moody video for "In The Air Tonight" went into heavy rotation during the fledgling months of MTV's existence. When released for home video in 1983, it received a Grammy nomination for Best Video, Short Form. In 1984, hip TV producer Michael Mann liked the song so much, he used it in the pilot episode of his new police action series Miami Vice. The 'MTV Cops' show was trendsetting for fashion, music and what was 'cool' about the 1980's. It also was the runaway hit in 1985 and added to the 4x platinum Miami Vice Soundtrack– forever linking the song with the show. Collins used his signature song in all of his solo tours and in his reunions with Genesis. Thanks in part to the Concorde he even played it on two different continents (London, UK & Philadelphia, USA) on the same calendar day for Live Aid, on July 13, 1985.
The influences of "In The Air Tonight" continued into the latter half of the decade and beyond. Gated reverb became ubiquitous with Collins' many future hits ("Sussudio" and "Easy Lover" to name a few). The cutting, punchy drum sound also created a distinct 80's style that influenced many artists like Prince's "Kiss". In 1988, a dutch DJ Ben Liebrand pushed a remix of "In the Air Tonight" to #4 on the charts in the UK. In 2007, Cadbury chocolate company received Collins' blessing for a lucrative TV advertisement. The ad featured a CGI gorilla listening to "In the Air Tonight" through his ear buds. As the camera pulled back, it revealed the gorilla waiting at a drum kit – soon pounding out the 'Magic Break.' The song re-re-charted, peaking at #14 in the UK and Cadbury got a 9% bump in sales. The 2009 movie The Hangover used the song as comedy fodder in a scene with Mike Tyson. "In the Air Tonight" and Collins himself were used in a side-mission for the game Grand Theft Auto: Vice City Stories. The song has gone platinum three times since being re-released as a digital single.
Genesis has reassembled with their "The Last Domino?" tour scheduled to start in Glasgow April 1st, 2021. When asked about the events that have led up to it all, Collins said:
I have two sons back in Switzerland and my life is now focused around them, but I do know that I will continue to write songs. As for the gorilla, I might put him forward as the next drummer of Genesis.
I've been waiting for this moment…